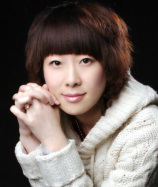 Wang Fei is a young tutor, Beijing Institute of Graphic Communication's Design Art College, and is a Macormedia international authenticated website designer. She is skilled in web art design, website front-end development, and two-dimensional animation software technology, and has been engaged in research on the application of design aesthetics and colour for many years.
She lectures for the logo design, web design, web art study, two-dimensional animation software, network multimedia creative, and creative mobile phone animation courses.
She is well regarded by both peer experts and students, and her students are all outstanding. She has played an important role in organizing and instructing students to carry out scientific creation and competition at home and abroad, and has achieved remarkable results in this regard. Her students actively participated in the "Swiss Magazine Design Competition", "China Academy" and other games, and many have won honors for the college.
She has received a number of honours for her teaching achievements, including advanced individual of teachers' ethics at Beijing Institute of Graphic Communication, outstanding educator, outstanding supervisor of graduation design, and outstanding Communist Party member.