Liang Shuying graduated from Beijing Institute of Political Science and Law (now China University of Political Science and Law) and taught there after graduation. Now she is Professor of International Law in China University of Political Science and Law. Liang has been involved in teaching and research work for a long time. Since 1999, she has been the chief lecturer in Public International Law in China Central Radio and TV University (CCRTVU, now the OUC).
She is director of the Chinese Society of International Law, standing vice-chairman of the Beijing International Law Society, consultant to the Beijing Municipal People's Congress on legislation, and is listed in the expert database by the NPC Commission of Legislative Affairs. She has been invited to foreign-related legislation activities organized by the state and the government many times. Professor Liang studied outer space law at the University of Mississippi from 1987 to 1988. In 1995 she was invited to participate in the International Public Law Conference of the United Nations. She has also been to a number of academic seminars at international or state levels and was awarded with the Best Teaching Result prize and the title of Excellent Teacher by China University of Political Science and Law.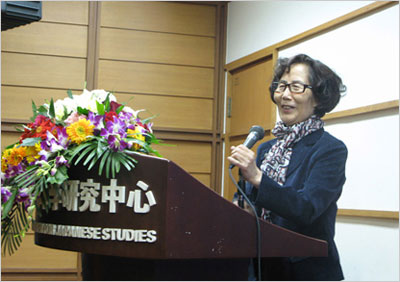 Professor Liang has a strong record in academic research. Her main publications include: The Treatment of Foreigners in China (a winner of the second prize of Excellent Scientific Research Achievement during the 9th Five-Year Plan by the Ministry of Justice), Public International Law (as the chief editor, winning the Excellent Teaching Material Award in his university), Research on International Legal Issues, International Public Law Case Study, Guidebook for Self-study University Candidates on International Law, A Comprehensive Book of Lawyer Affairs, and others. Professor Liang has published dozens of academic papers in national publications and newspapers, such as: The Meaning of the Common Heritage of Mankind, International Protection of Human Rights, On the Gulf War and International Law, China's Law on Territorial Waters, Foreigners' Legal Status, China's Foreigner-related Extradition System (winning the second prize of paper competition in China University of Political Science and Law), Chinese Foreign Notary System (winning the second prize of Huaceng Excellent Papers), Chinese Judicial Assistance in Foreign-related Cases (winning the third prize of Huaceng Excellent Papers), On National Sovereignty, China's Having Full Sovereignty over Taiwan, On State Immunity and China's Position, The Feasibility of Treaties in Hong Kong, Limitations of Diplomatic Protection on Nationality, Administration of Foreign Law Firms in China, U.S-led NATO Bombing of China's Embassy Is an Outrageous Violation of International Law, The Feasibility of Treaties in China and Their Implementations. She also took part in the writing of the state-level key teaching material International Law and acted as the leader of some national and ministerial research projects and other cooperative research projects with foreign countries.
Since 1999, Professor Liang has been teaching the subject of International Law in CCRTVU (now the OUC) and working as the chief lecturer in International Law and the chief editor of the textbook International Law.