Jia Junling was born in 1936. She graduated from the Law Department of Peking University (PKU) in 1961 and was assigned to teach in her alma mater in the same year.
Professor Jia is now a professor in the PKU Law School and a PhD candidate supervisor. She serves as director of the Labor and Social Security Law Institute at PKU Law School. She also serves part time as a legal advisor for the All China Federation of Trade Unions, standing director of the China Association for Labor Studies,
standing director of the China Social Insurance Association, president of the Social Law Research Association of the China Law Society, council member of the China Law Society, and executive chairwoman of the International Association of Labor Law and Labor Policy in China.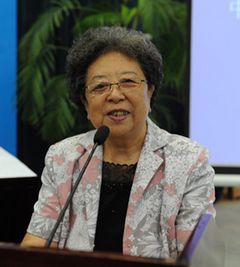 Professor Jia has worked as chief editor for books including Science of Labor Law, Labor Law and Social Security Law and A Course on Labor Law, and written many more including Preliminary Study on Legal System for Handling Labor Disputes, Chinese Social Security and Human Rights, Social Security and Legal System Construction, Realization and Development of Social Security in Macau, Labor Relations in Hong Kong Special Administrative Region, Modernization and Internationalization of Chinese Labor Law.
Since 1985, Professor Jia has been the chief editor of the CCRTVU (now OUC) textbook Labor Law and the lead teacher for this subject.