Zhao Bingzhi was born in 1956 in Nanyang city, Henan province. Doctor of Law.
In 1987 Professor Zhao graduated from the Renmin University of China Law School with a degree in criminal law. In March 1988, he earned his doctorate degree in law, becoming one of the first PhD winners in Criminal Law. From 1990 to 1991 he traveled to the Law Institute of Duke University USA as visiting scholar. Subsequently he held the positions of lecturer, associate professor, professor, doctorate supervisor and vice-president of the Renmin University of China Law School. He now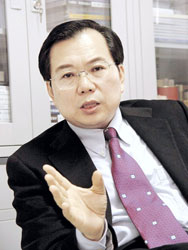 holds the posts of president of the Criminal Law Scientific Research Institute at Beijing Normal University (BNU), president of the Law School of the BNU, professor, and doctorate supervisor of the BNU. He is also the president of the China Law Society Criminal Law Research Committee, executive director of the China Law Society, member of its Academic Board, executive vice-chairman of International Association of Penal Law in China, director and vice-secretary of the Legal Problems Across the Straits Research Committee of China Law Society, member and vice-secretary of the National Educational Guiding Committee to Master Degree of Laws, member of the Law Branch of the State Council Academic Degrees Committee, specially invited professor to the "Chang Jiang Scholars Program". In 1991 he was awarded as one of the Chinese doctoral degree recipients who made outstanding contributions to the State by the State Education Commission and the State Council Academic Degrees Committee. In 1995 he was selected as one of the top ten national outstanding young jurists by China Law Society. From October 1993, Professor Zhao started to enjoy the Special Government Allowance of the State Council of China. In 1997, he was awarded the title of trans-century young and middle-aged leader of disciplines in science by the Ministry of Human Resources and Social Security.
Zhao Bingzhi's principle scholarly works include: On Criminal Subject, Application of the Theory of Attempted Crime, Researches on Criminal Law, Crime of Property Violation, Theories and Application on Criminal Law Since China's Reform and Opening Up Policy, Research on Controversial Issues in Criminal Law (two volumes). In total, Professor Zhao has written or acted as editor for over 100 books and 400 papers. He has received awards of national, ministerial or college level for his work. He has participated in more than 20 national or ministerial research projects and joint research projects with Hong Kong, France and Japan.
Professor Zhao has taken the teaching responsibility for the programme of Science of Criminal Law at the Open University of China since 1992. From 1999 until now he has held the posts of chief editor for the teaching materials of the programme, associate editor for the textbook of the programme and Criminal Law (Supplementary Teaching Materials), and chief editor of Criminal Law and Reference Materials for Criminal Law.