Yang Zixuan of Nantong city, Jiangsu province, was born in January 1934. In 1958 he graduated from the Peking University Law School and stayed on after graduation to teach. He is now a professor of Peking University Law School and doctoral student supervisor.
Professor Yang also holds the posts of advisor to the Section of Economic Law in the China Law Society, honorary president of the law schools of two higher education institutions, visiting professor of several universities. He has previously held the posts of Executive Director of the China Economic Law Research Society, vice-president of Beijing Economic Law Research
Society, consultant to Beijing Municipal People's Government 7th Session Advisory Group, the first specially appointed consultant to the Supreme People's Court of the People's Republic of China (PRC), deputy to the ninth National People's Congress of the PRC, member of the National People's Congress Law Committee.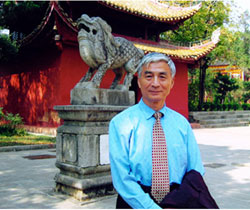 After 1958, Professor Yang took up teaching and researching work on jurisprudence and international public law. From 1979 onwards, he has been teaching and researching economic law, and is among China's foremost economic law scholars. He was one of the founders to establish the discipline of economic law and the institute of economic law in China. The main focus of his research is: economic law theory, business law (including law of cooperation), foreign economic law and international economic law theory.
For almost thirty years, Professor Yang has opened classes and lectured undergraduates, graduate students and doctoral students in six different subjects. He has also supervised numerou postgraduates and provided instruction to over a hundred teaching staff for further study and visiting scholars, many of whom have already become leaders in the field of economic law, high-ranking civil servants, senior prosecutors, renowned judges, grand justice and reputable lawyers. He has received invitations to deliver lectures, make academic presentations and participate in international meetings in colleges and universities in mainland China, Hong Kong, Macau and Taiwan. He has, on invitation, traveled to universities in Canada, America, the United Kingdom, France, Germany, Japan and South Korea to deliver lectures, pay official visits, contribute to academic seminars and participate in international academic exchanges.
Professor Yang is the author and chief-editor of 22 teaching materials and major publications and has published a number of theses in many influential journals. He has produced creatively an economic law theory that can act as a system independently—the "National Harmonization Theory" and a new form of international economic law theory, "International Harmonization Theory".
Professor Yang has participated in the research, drafting, debate and modification of a number of important laws, primarily in the field of economic law. When acting as deputy to the National People's Congress and member of the Legal Committee, he conscientiously carried out his duties and was closely involved in the deliberation on the drafts of a number of laws. In the process, Professor Yang made a significant contribution to the nation's legal system building.
Since the implementation of the reform and opening policies, Professor Yang has won prizes such as Peking University's "Outstanding Teaching Award", first class award as given by the Ministry of Education for Outstanding Teaching Materials in normal higher education institutions, the honor of "Advanced Teacher" as awarded by the Ministry of Justice, and has enjoyed government allowance, accompanied by a certificate from the State Council.
From 1985, Professor Yang has participated in the teaching programme for the Open University of China's Economic Law subject and is the chief editor of related teaching materials used for the subject.