Professor Yang of Yuncheng city, Shanxi province, born in 1931, is a consultant to the Research Center for Procedural Law of China University of Politics and Law. He supervises doctoral students, is the director of the Civil and Economic Justice Research Centre, a member of the Academic Committee of China University of Political Science and Law, and a member of the Degree Committee of the same university.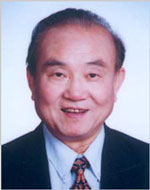 After Professor Yang graduated from the Renmin University of China Law School in July 1954, he studied International Propaganda at the School of International Studies of Renmin University of China on a four year research programme, subsequently being allocated a teaching placement at China University of Political Science and Law. From 1972 to 1979 he taught modern history of China at Hebei Normal University. From September 1979 until the present he has taught at China University of Political Science and Law. For several decades he has taught correspondence students, junior college students, undergraduates, dual degree candidates, masters students and doctoral students in classes on Civil Procedure Law, Arbitration Law, Bankruptcy Law, Notary Law, Mediation Law, and Comparison of National and Foreign Civil Procedure Law. Professor Yang is also the vice-president of the China National Association of People's Mediation, director of the China Behavior Law Association, director of the China Law Society Procedural Law Research Committee, arbitrator for the China International Economic and Trade Arbitration Commission, arbitrator for Beijing Arbitration Commission, arbitrator for the Nanjing Arbitration Commission and visiting professor at Wuhan University Law School, Xiangtan University Law School, Zhengzhou University Law School, and Law School of University of Science and Technology Beijing.
Professor Yang enjoys State Council special allowance for outstanding contributions of scientific and technological personnel. His publications have received the prize of Excellent Teaching Materials for State Colleges and Universities (awarded by the former State Education Commission), the Outstanding Teaching Materials prize awarded by the Ministry of Justice, first prize for Research Achievements during the Ninth Five-year Period, first prize for Higher Education Institutions Exceptional Teaching Achievements of the People's Government of Beijing Municipality, first prize in the National People's Mediation Theory Research Seminar, third prize in the China Behavior Law Association Seminar, and the China University of Political Science and Law Outstanding Scientific Papers prize.
From 1985, Professor Yang has participated in the teaching for the Open University of China's Civil Procedure Law. He is the chief editor and leading lecturer for this subject.