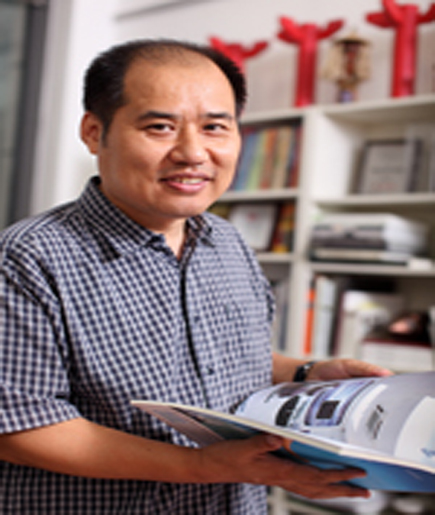 Zhang Yue, associate professor and master of fine arts, is dean of the Department of Environmental Art Design, Academy of Arts and Design, Tsinghua University and a  supervisor for master's students.
He is vice chairman of the Design Committee of the China Building Decoration Association; vice chairman of the Design Committee of the China National Interior Decoration Association; a member of the Fine Arts Committee of Basic Computer Teaching to Liberal Art Students of Higher Education with the Ministry of Education; and a member of the Environmental Art Design Major Committee of Beijing Higher Education Self-Study Examination Committee.
His research is oriented towards human factors in environmental art design. He serves as the editor and lead teacher of "Introduction to Design", a course for OUC interior design majors.
Following are his major academic achievements. He led the compilation of "Interior Human Engineering", which is one of the earliest specialized teaching materials targeted at art students, and he has participated in the writing of the related development of "Collection of Data on Interior Design". His project, The Construction of Teaching Materials on Environmental Art Design, won second prize for China Light Industry Trade Association Teaching Achievements, first prize for Beijing Higher Education Teaching Achievements, and second prize for National Higher Education Teaching Achievements. He developed the courseware for "Human Engineering", a 2003 national online demonstration project. In 2006, the second edition of Interior Human Engineering was published by China Architecture and Building Press. In 2005, his courseware for"Interior Human Engineering" won first prize for Tsinghua University's Excellent Multimedia Courseware, and a series of courses including this course was named an Outstanding National Course in 2008, an Outstanding Course of Beijing Municipality in 2007, an Outstanding Course of Tsinghua University in 2005, won first prize for Tsinghua University Teaching Achievements in 2008, and first prize for Beijing Teaching Achievements. A series of interior design teaching materials, including the textbook he compiled, won first prize for Outstanding Teaching Materials at Tsinghua University in 2008.
The major courses he teaches include interior human engineering and interior design (2), as well as appreciation of environmental art, the basics of interior design, and specialty practice.