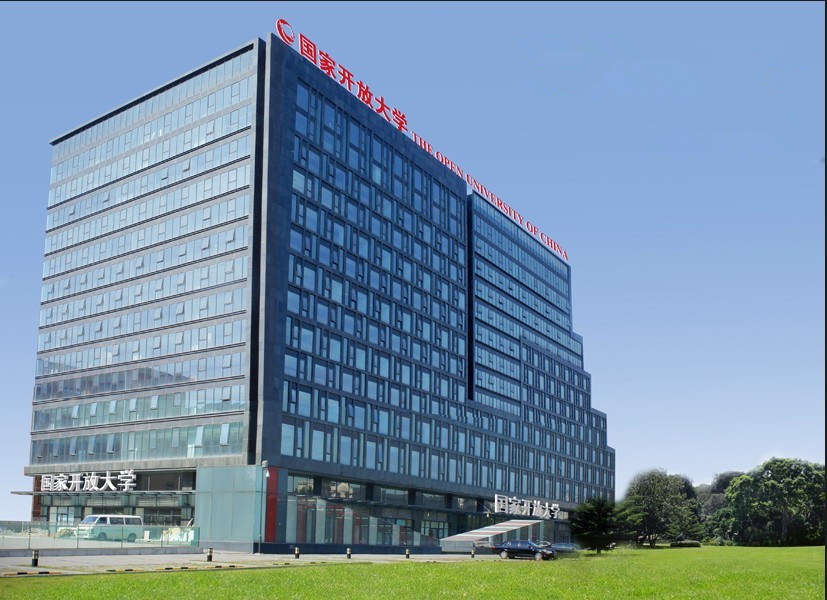 The Open University of China (hereinafter referred to as the OUC) is a new-style university without walls, open to all members of society. It was established on the basis of the former China Central Radio and TV University (CCRTVU) and local radio and TV universities (RTVUs), and uses modern information technology to support a school network covering all urban and rural areas in China.
It assigns equal weight to degree and non-degree education. At present, there are 3.59 million registered students, of which 1.05 million are undergraduates and 2.54 million are junior college students. Among them, there are about 200,000 rural students, 100,000 military personnel and 6,000 disabled students. The establishment of the OUC marks the start of a new journey in the history of  RTVU system.
Historic Mission 
The OUC upholds the educational philosophy of "Openness, Responsibility, Quality, Diversity and Internationalization". The university is rapidly expanding non-degree continuing education while continuing to develop degree continuing education, integrating modern technology with education to build an "overpass" for lifelong learning. This lifelong learning system contributes to the formation of a learning society and serves the development needs of individuals as well as the economic and social development goals of the nation. Over the next ten years, the OUC will emerge as a new-style university in China's higher education system, a world-class open university with Chinese characteristics and an important pillar in China's learning society.
Supporting Alliances
The OUC has established four major supporting alliances to help fulfill its historic mission and realize its social values, develop a learning society and fully utilize available high quality social sources. A university supporting alliance was established based on cooperation between the OUC and other universities in China. The development of the OUC can be promoted by taking advantage of other universities' strength in teaching, majors and course resources. The university has also established an industry supporting alliance, an enterprise supporting alliance and a city supporting alliance based on cooperation between the OUC and several guilds, large-scale enterprises and central cities. By leveraging the resources and strengths of these entities, the university will develop various programmes of vocational training, community education and citizen education, and promote the construction of learning industries, learning enterprises and learning cities.
Technical Framework
The development and widespread application of modern information technology has not only exerted a profound influence on people's methods of production, lifestyles and ways of thinking, it has also had a revolutionary impact on the development of education. The OUC is devoted to integrating technology and education; promoting innovation in education; enhancing educational capacity, quality and management; and promoting educational equality and the sharing of quality education resources. With the assistance if high-level ICT enterprises, the OUC has established a cloud platform for distance education. With the help of high-level online operators, the OUC's headquarters and branches are connected safely and quickly through VPNs, the Internet, the education and research network, the mobile communication network, and the satellite network. Furthermore, the OUC will partner with top-tier terminal manufacturers to develop mobile learning device and make learning accessible to all citizens. All of the above has built a powerful digital platform for distance education, which can provide learning support and services for billions of users. 
Learning Model 
The OUC devotes to realizing well supported open learning, and is exploring a new learner-centred learning pattern, primarily based on online self-directed learning and supplemented by distance learning support and face-to-face tutorials. Since it is demand-oriented and focuses on developing students' abilities, the OUC is reforming its teaching content and curriculum system, cooperating with industries and enterprises, and developing programmes that embody its characteristics. By improving teaching methods, the OUC is able to provide learners with a large number of high quality online courses, integrating multimedia resources, interactive teaching, learning assessment and learner support. In addition to face-to-face tutorials provided by learning centres all over the country, teachers and students can also achieve real-time communication through a high speed HD two-way video system. Distance learning support and services are thus provided to learners at any time and anywhere. The evaluation model is also changing from summative assessment to formative assessment.
Credit Bank 
The OUC endeavors to promote lifelong learning for all. Accordingly, the university has established a credit bank system that includes functions like credit accreditation, credit transfer, and credit access. Every learner has his own lifelong learning portfolio. Learners can accumulate credits according to the credit accumulation rules that have been put in place. When they accumulate enough credits, they can apply for the corresponding certificates. The credit bank strives to provide a basis for the mutual recognition and transfer of credits between different educational and training institutions. Social members are encouraged to accumulate credits so that degree education and non-degree education can be linked up. By building this kind of "shortcut" to lifelong learning, the OUC is pushing forward the development of a lifelong learning system.  
Public Services
The OUC is a public welfare university aiming to serve the grassroots of society. The OUC takes advantage of its online platform and digital learning resource repository to provide content-rich online lectures and online public courses on various topics in order to promote the scientific and cultural quality of Chinese citizens, and satisfy diverse and individual learning needs. Various public services, including distance learning support, related education training, and information consultation, are provided for regular universities, junior and higher vocational institutions, social training institutions, industries and enterprises, and urban and rural communities. Targeted, multilevel and wide-ranging education communication and cooperation initiatives have been developed with related international organizations, universities and institutions. The teaching of Chinese as a foreign language has been promoted through the development of the Confucius Institute, which is based online, so that Chinese culture can be spread throughout the world.