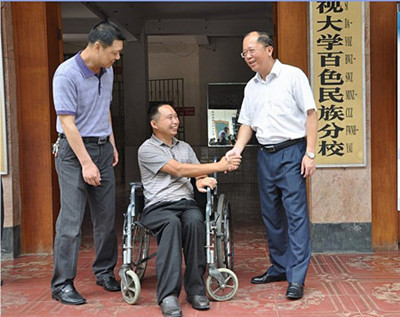 Ruan Wenping was a junior college student who graduated from the class of 2010 Primary School Education major at Baise Minority School of Guangxi Open University. He attained a bachelor's degree in Chinese Language and Literature in 2013. Today, he is a tutor at Zhongxinxiao Nonghuainian'en Primary School in Xiajia Town, Lingyun County, Guangxi Zhuang Autonomous Region.
Ruan suffered from polio in his childhood, leaving his legs severely atrophied. Despite being disabled, he still adhered to his position for 20 years, offering spiritual support to the children of Yao village of Nonghuai. The local Yao residents were filled with gratitude for his devotion. He was granted the title of "Outstanding Teacher" at the township, county, city, and municipality level. In September 2006, he won the "Special Contribution Award for Education in Lingyun County", becoming the first person to win the honor in the history of Lingyun. In 2007, he was selected as one of ten candidates for "Touching the Heart of Baise, Guangxi Province, China", and as an advanced individual supporting "national unity" in the region. In 2009, he won the national title of "model of self-reliance". In May 2010, he was awarded the honorary title of the 14th "China May 4th Youth Medal". In March 2011, he was elected "2010 Chinese Character of the Year: Grassroots Model". In September 2013, he was awarded the "2013 National Moral Teacher Model" honor.
Devoted to fulfilling his work duties
Ruan Wenping was born into a peasant family. He suffered from illness at a young age and lost the use of his legs as his family could not afford to cure the disease. His father became blind in 1985 and his mother died in 1989. In July 1994, he excelled in his entrance examination to senior high school and was admitted to a medical technical secondary school in Sichuan. However, as he could not afford the tuition fees, he returned to Longfeng village with a great sense of loss. At that time, the teachers there were not sufficient. The township education management station considered him to be suitable for a teaching position, and decided to employ him as a substitute teacher at Changdong Primary School, with a salary of RMB 70. He was appointed to be in charge of two classes with poor scores, grade two and grade five. He was the substitute teacher for the grade five math class and the grade two Chinese class. Under his instruction, he turned a notoriously poor class into one of the school's most civilized classes. Grade five's attainment rate in math reached 80%. In 1995, a local teacher from Nonghuai Primary School died. After that, several teachers were transferred to the school by the township education management station, however, they all left. The traffic there was inconvenient, and there was insufficient water. Such poor conditions made life difficult, not to mention teaching. This eventually led to the school closing. The leaders of the township education management station saw that Ruan Wenping was down-to-earth and invited him to teach at Nonghuai Primary School. Today, he has been devoted to the position for 18 years. With two crutches and a wheelchair, he adopted his self-created "Han and Yao bilingual teaching mode" to teach over 80 students from the Yao village, helping them explore a vast and profound ocean of knowledge.
Exploring the world through his studies
Ruan Wenping wanted to be a teacher who was not purely qualified, but also teaches well. The children in the Yao village in the mountains can only speak their local dialect, and have trouble speaking Mandarin Chinese. Ruan began to learn the local Yao dialect, and in class, he adopted bilingual teaching. Firstly, he read in Mandarin Chinese and then explained it in the local Yao dialect. The children in the Yao village found it difficult to learn the abstract Chinese pinyin. To solve this problem, he used physical objects and vivid pictures to help them get a better understanding. To arouse their interest in learning, he organized drama performances in the classroom. Sometimes he composed poems into folk songs and encouraged the students to sing aloud. In this way, in just a semester, the children learnt how to communicate in Mandarin Chinese. They learnt how to write their own names for the first time and used what they had learnt in the classroom to calculate the harvest for their families. Over the course of a semester, the students achieved good results in the final examinations. The teaching quality at the schools has drastically improved, and Ruan has won the trust of the local Yao residents. In September 2000, the number of students reached 32 at the beginning of the new semester. Students from four grades studied in one classroom. Ruan hung four blackboards at front of the classroom, with one blackboard for each grade. When teaching multiple grades concurrently, a teacher has to spend much time and efforts on class preparation. Yet Ruan never gave up, and kept exploring new teaching methods. He collected all the materials that his younger brother used while attending Normal University, and went to the bookstore to buy books on how to improve his teaching quality. He carefully studied these materials to constantly improve his teaching level. In July 2001, the average Chinese score of his students were the second highest in the town for the secondary high school entrance examination. Before then, there had been no primary school graduates from Nonghuai Primary School. In 2002, in the enrollment test for Grade four of the county-level minority primary school, four children from the Yao village were admitted, of which, two were from Nonghuai Primary School. In 2004, his second batch of primary school graduates were admitted to the secondary high school, their scores ranking third highest in the entire town. Today, the local enrollment rate of school-age children has reached 100%.
Selfless dedication to the teaching position, treating students like his own children
In 1995, it took Ruan four hours to reach Nonghuai Primary School by crawling along the winding stone steps. When he arrived, he was faced with an empty campus in very poor condition. He participated in the school renovation to improve the school conditions. He mobilized the villagers to repair the unstable buildings, repair the roof, and install new windows and doors. He bought cement with his own salary and lead the students to collect sand from a few miles away. The villagers also actively offered to help, painting the indoor cement floor of the classroom. In 1997, he spent over RMB 100 buying reinforced concrete. He used the concrete and sand to set up a table tennis area for students. In 1998, he discussed with his father again to spend over RMB 400 (earned by selling pigs that his father had raised) on buying a basketball ring. In 2003, the township government allocated four tons of cement to the school. Ruan mobilized the villagers and offered construction materials to set up a 88 cubic meter water tank so that the students do not have to bring drinking water from home. In November 2005, he and his students worked together to open a playground in the mountainous area. He devoted himself to the teaching cause for the children in the mountain areas. With his meager salary, he provided financial assistance to three orphans and often funded children from poverty-stricken family. His love for his students was like that of a parent. At the request of the villagers, the local authorities changed the name of the school to "Nian'en Primary School", showing gratitude to all the people who are concerned about the school. Today, the old tattered school has gone, with the pretty little buildings standing out among the mountains. The brand new desks and chairs in the classroom, as well as the big blackboards, are the same as city schools. Flowers bloom in front of the teaching buildings.
Ruan has devoted considerable personal time and effort to his students and to his education career. To improve his teaching level, he is always strict with himself. He was registered for the junior college Primary School Education major at Guangxi Open University. He, together with his wife, always made time in his busy schedule to study. The teaching site is only a few miles away from Xiajia Town. Although it doesn't seem far, for Ruan the miles of winding mountain road was a barrier blocking him from the outside world, since his legs had worsened and he was forced to use a wheelchair at all times. Since his wheelchair could not run on the winding and narrow trail, all he could do is ask someone to drop him off near the highway and then use his wheelchair from there.
In July 2010, Ruan and his wife finally completed the teaching plan set up by the CCRTVU, and finished their junior college courses. They passed the graduation exam and obtained their graduation certificates. Although their academic degree met the minimum requirements for the primary school position, they still chose to get further education. They continued to study for a bachelor's degree in Chinese Language and Literature from Guangxi RTVU. Thanks to Ruan's own efforts, he overcame difficulties that ordinary people could not even imagine. In July 2013, he graduated from CCRTVU and won a scholarship.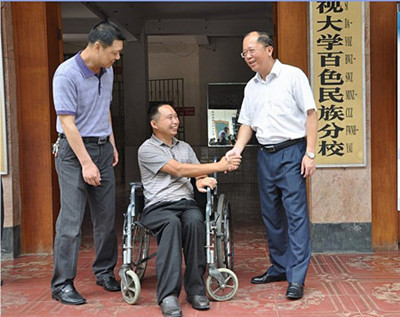 Ruan Wenping, "Touching the Heart of Baise, Guangxi Province, China" candidate, returns to his Alma mater.