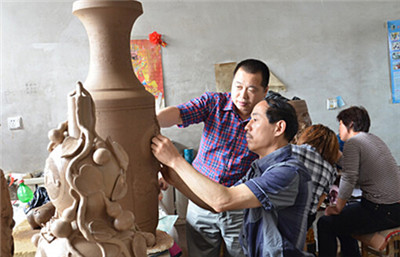 Xu Qingzeng is the secretary of the party branch in Xumiao Village's Jiyang Street Office in Jiyang County, Shandong Province, and the founder of Longyang Black Pottery Co. Ltd. in Jiyang County. He graduated from the Eighth Middle School of Jiyang County, Shandong province in July, 1987. In July, 2005, he graduated from the Secondary Technical School for Adults in Jiyang County, Shandong province.
In the autumn of 2010, he became an undergraduate majoring in Countryside Administration, as taught through the "One College Student Per Village" programme of China Central Radio and TV University (CCRTVU). He graduated in January of 2013.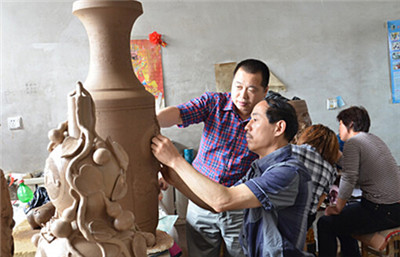 During his studies, Xu Qingzeng was not only the party branch secretary, but also the general manager of Longyang Black Pottery Co. Ltd., which means he had very little free time and was always busy with numerous complicated affairs. To balance his work and study, he carefully designed the village affairs' management programme and arranged time for self-learning and concentrated face to face tutoring. Through his unremitting efforts, he won the 2011 CCRTVU scholarship entitled, "Field of Hope," and such honorary titles as, "Leader in Getting Rich in a Scientific Way" in Jiyang County, and 2012 "Top Ten Village Officials from College Students" in Jiyang County.
He strictly abided by the rules and regulations of the university, actively participated in instructional activities according to requirements laid out in the syllabus, and ensured quality work while completing assignments on time for each subject. He correctly handled the relationship between work and study, arranged his time reasonably, studied hard, humbly consulted with his classmates and teachers, completed the learning objectives of all subjects in a positive and studious manner, and achieved excellent results in every exam. He never arrived late, left early, nor was absent. In classes, he listened earnestly to the teacher, actively participated in class discussions, took careful notes, and wrote down what he learnt from each class in a timely manner. After class, he reviewed and reinforced the professional knowledge gained and completed the homework assigned by tutors earnestly, neatly, and correctly. He used the RTVU's online BBS and e-mail system to solve any academic problems in his study. With the help of his tutors, he learnt to use online resources to study effectively, which was more important than mastering the course material. He insisted in combining professional learning with practice and actively participated in all practical activities arranged by the university. Through learning activities, his own professional qualities and problem-solving abilities were continuously improved. In the CCRTVU's "College Student Village Officers and Village Official College Students Hand in Hand to Propel New Rural Construction" campaign in July 2011, he learnt theories from college student village officers and shared rural administration experiences with them, which was mutually advantageous. Through systematic study and exercises during his coursework as a Countryside Administration major, his theoretical knowledge and service capability greatly improved. What he learnt played a critical role in guiding and promoting the village management and the company's development. While enriching his professional and cultural knowledge, he also renewed his desire to pursue a life in which he fully exploits the value of life, develops his potential and creativity, and serves society effectively, so as to make himself grow gradually to be an application-oriented talent in managing village affairs and leading villagers to take initiative and grow wealthy.
Since taking office as the secretary of the party branch in Xumiao Village at the Jiyang Street Office in Jiyang County, Shandong province, Xu Zengqing realized that a village officer should possess a certain educational level, theoretical knowledge, and basic understanding of laws and regulations required in village administration. He connected the knowledge he gained through CCRTVU courses, including "Rural Laws and Policies" and "Countryside Administration," with village management practices, obtaining positive results in aspects such as solving villagers' petitions, handling land allocation, village planning, resolving neighborhood disputes, and so on. Through communicating with party members and cadres in the village and discussing issues with villagers, he knew what the villagers were thinking about, their desires as well as problems needing to be solved. Through home visits, he invested more than RMB 200,000 to help two poor families build pig farms, advance funds for ambitious young people to buy trucks to launch a transportation business and learn technical skills, and helped young people interested in the black pottery business to learn pottery engraving technology, all to equip some of the poverty-stricken villagers with technology and engage them in some business to make money. Their standard of living improved gradually. At the same time, he didn't forget low-income people, actively helping people living alone and the elderly apply for hardship relief and sending them basic necessities, such as oil and flour, in time for holidays. In order to solve issues with mass transportation, he raised funds through various means, including investments from his own company, some from the village committee, and the rest from the masses, cadres, and businessmen working in the county. He then led villagers, party members, and cadres to repair a nearly 5km long village road connecting it to the outside world, hardened the two main streets in the village, and installed road lights so that the villagers would no longer fall in embarrassment on muddy, rainy days and be enveloped by the drifty dust on sunny days. Meanwhile, he renovated water conservation facilities and planned to build an activity room for villagers. The villagers no longer have to stay home and watch TV after dinner. Instead, they get out of the house to read books, play ball games and chess in the bright light, or jump square dances on the clean streets. Through years of productive work, per capita income in the village in 2012 reached more than RMB 11,000 yuan. The villagers became wealthier, the environment improved, the atmosphere in the village became healthier, and fewer neighborhood disputes greatly improved the village's appearance. 
During his studies with the RTVU, Xu Qingzeng put into use the knowledge he learnt, linking theory with practice. While grasping the management of village affairs and leading villagers to greater wealth, the Jiyang Longyang Black Pottery Co., Ltd, which he had founded, underwent continuous development. The company has developed into a comprehensive cultural enterprise, integrating black pottery crafts R&D, production, and sales. His design work, "Black Pottery," was awarded excellent marks by the Jinan Folk Artists Association. In 2012, "Dragon Soaring in a Flourishing Age" and "Three Durable Plants of Winter" respectively won the "Gold Award" from the Shandong Arts and Crafts Green Hand Award and "Silver Award" of Fine Art at the Fourth China (Shandong) Crafts and Fine Houseware Expo. Jiyang Longyang produces more than 21,000 pieces of black pottery products, covering markets in more than 10 provinces and regions, including Jiangsu, Zhejiang, Guangdong, Shanxi, Xinjiang, and Heilongjiang. Its annual output value is more than RMB 5 million. The company single-handedly settled the employment problem for village youth interested in the black pottery business. In the future, he will make full use of the management knowledge he has learnt in order to make his company both bigger and stronger, and attract more and more young people to developing black pottery culture, which will quickly lead all villagers to become more affluent.