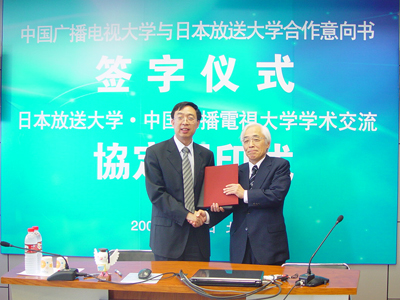 About OUJ:
The Open University of Japan (OUJ) was founded in 1983 under the joint auspices of the Japanese Ministry of Education, Culture, Sports, Science and Technology and the Ministry of Internal Affairs and Communications. It is an entity with special legal personality status headquartered in Chiba-ken.
By utilizing broadcast media and other effective modern educational methods, OUJ aims to provide housewives and others interested in continuing education with access to quality secondary, undergraduate and graduate-level education. It sets out to improve and enhance higher education through the exchange of teaching staff, transfer of credits and extension of self-developed course materials. OUJ is currently the largest and most well renowned university for distance education in Japan. Its students fall into three main categories: regular students (pursuing bachelor's or master's degrees), non-degree students taking selected programme courses, and non-degree students enrolling in only a few subjects of their choosing. OUJ now offers over 360 courses in 50 study centres nationwide and boasts over 1.1 million current and former students, among whom 50,000 have obtained relevant degree certificates.
Collaboration with the OUC:
The exchanges and cooperation between China Central Radio and TV University (CCRTVU, namely, the present OUC) and Japan date back more than two and a half decades. As early as 1988, CCRTVU and NHK jointly signed the Contract on Compiling and Producing Training Package of Audio-Visual Teaching Materials for CCRTVU, aiming to train RTVU system staff in compiling and producing audio-visual teaching materials to improve the quality of the teaching programmes at Chinese radio and television universities.
In 2009, CCRTVU attended the World Open University Presidential Forum co-sponsored by the Japanese Ministry of Education, Culture, Sports, Science and Technology, the City of Chiba and OUJ. In May of the same year, CCRTVU and OUJ signed a Cooperative Agreement on Distance Education, and the signing ceremony was broadcast to radio and television universities all over the country via a two-way conferencing system. Since then, both sides have carried out comprehensive and extensive cooperation in a wide range of endeavors, such as academic research, project development, faculty exchange, as well as the sharing of educational resources and materials. Additionally, CCRTVU, OUJ and Korea National Open University launched the Three-party Distance Education Forum of China, Japan and South Korea in 2009.