About AAOU:
Founded in 1987, the Asian Association of Open Universities (AAOU) is a non-profit academic organization for open universities in Asia. As of October 2010, the AAOU has 48 official members, 22 associate members and 2 individual members.
The official members are mainly made up of universities and colleges engaged in open and distance education in Asia, while associate members include universities and institutions that help to promote open and distance learning. Today, the AAOU has become an influential international distance education organization.
The AAOU focuses on stimulating the development of open and distance education in Asia, promoting universal access to education by means of distance education, and improving the cost-effectiveness and social benefits of university members through exchanges in management information, education resources and scientific research. 
The AAOU annual conference is hosted by a different member nation each year. It provides a communication and development platform for the people engaged in distance education, particularly teachers, managerial personnel and students.
Cooperation with the OUC:
As a member of the AAOU, the China Central Radio and TV University (CCRTVU, now the OUC) has attended each annual conference on behalf of China's distance education institutions. The papers submitted by the CCRTVU (OUC) have won a number of important awards at the annual conferences. The CCRTVU began to take part in the intercollegiate exchange of scholars within the AAOU in 2007.
In November 2004, the 18th AAOU Annual Conference was convened in Shanghai, China. Former president of the CCRTVU Zhang Raoxue was elected as the rotating president of the 19th AAOU Annual Conference. Li Yawan was nominated for secretary-general and the Secretariat was established at the CCRTVU. In 2007, Zhang Raoxue was honored with the AAOU's "Lifetime Achievement Award".   
In October 2010, the 24th AAOU Annual Conference was convened in Hanoi, Vietnam. At the meeting, the OUC was elected as a member of the AAOU Executive Committee for the period 2011 to 2013.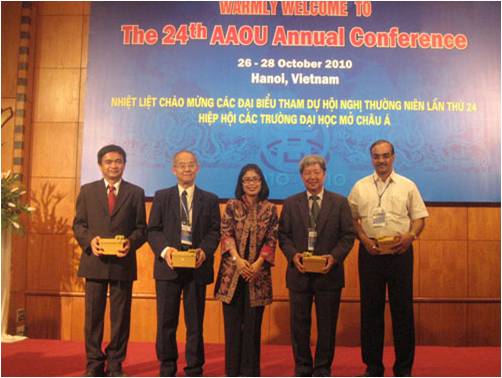 The 25th AAOU Annual Conference in 2011 and the 26th AAOU Annual Conferenc in 2012 were convened in Penang, Malaysia and Chiba, Japan respectively.