General Information:
The Confucius Institute at Michigan State University (CI-MSU) was established in East Lansing, Michigan in May 2006. Its headquarters in America is located in the College of Education, Michigan State University. Guided by Hanban/Confucius Institute Headquarters in China, this Confucius Institute was co-established by Michigan State University and the Open University of China (OUC).
CI-MSU relies on the leading role and advanced educational concepts adopted by the Michigan University and makes the best of the OUC's rich experience and resources in distance education. Via the web-based teaching platform of Michigan Virtual High School, it provides Chinese language and culture education. It is the world's first online Confucius Institute, and also the first to offer online Chinese courses targeted at high school students.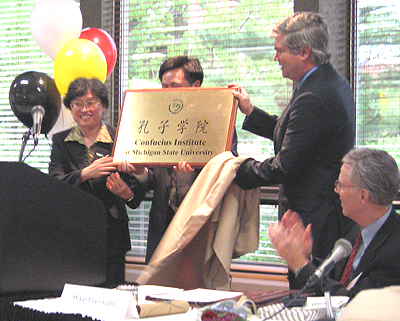 In addition to the advantage of using the Internet to conduct Chinese teaching, its "shop-factory" style operation also makes it unique among Confucius Institutes around the globe. In this partnership, the American side is the "shop", responsible for operations and market promotion in the US. It will propose suggestions on the needs and requirements of American customers in the areas of teaching materials, teacher training and pedagogy. Its Chinese counterpart, the OUC, is the "factory", which will use its strengths in domestic teaching resources, human resources, distance teaching, and multi-media courseware research and development while taking the customers' needs into consideration. For this purpose, the OUC has specially established the China R&D Center of CI-MSU, with the work done by the OUC Chinese Language Center (www.myechinese.org) and the Center for Modern Distance Educational Resources (www.mder.com.cn). The OUC Chinese Language Center is in charge of the routine work of CI-MSU in China.

Teaching Chinese in School Districts:


Chinese as a Foreign Language: Teaching Chinese as a foreign language is established for middle and high school students in Michigan. Teachers and students meet five times a week, each time 55-60 minutes. Students learn Chinese from beginning level to AP (Advanced Placement)level.
 
Chinese Language and Culture: This programme aims at providing opportunity for students of American primary and secondary schools to learn Chinese language and culture. Teachers and students meet twice or three times a week, each time 30 minutes.
 
Education for Global Citizenship (EGC): EGC will provide the opportunity for young children in Michigan to engage in bilingual and bicultural learning. The EGC model creates learning environments where children spend half of the day (3 hours) immersed in Chinese language classrooms that are infused with Chinese cultural and educational practices and the other half of the day immersed in English language classrooms that are infused with Western cultural and educational practices.
 
Teaching Chinese Online:


Online Chinese Courses for Secondary School Students: CI-MSU offers a complete series of high-quality Chinese courses to middle and high school students through the Michigan Virtual High School. The online course adopts Chinese Your Way as the textbook, developed and produced by the China R&D Center of CI-MSU. This courseware has won the title of Excellent Teaching Material in 2008 conferred by the 3rd Confucius Institute Conference.
 
New Chengo/ Zon — Learning Chinese Online Game: CI-MSU developed Zon, the multiplayer online learning environment designed to teach Chinese language and culture through game playing. It is comprised primarily of Chinese language and culture learning software, including Chinese learning game, DVD video programmes and network learning materials. This courseware has won the title of Excellent Teaching Material in 2010 conferred by the 5th Confucius Institute Conference.


Online Chinese Courses for Adults: CI-MSU offers online Chinese courses for adults that include general Chinese language and culture education as well as language and culture courses for specific purposes, such as Word of the Day, Chinese Podcast, Business Chinese, Tourism Chinese, and Education Chinese. Online Chinese Courses for Adults are free to public.

Online Chinese Language and Culture Appreciation Course Series: CI-MSU also develops a series of introductory culture courses for primary, middle, and high school students. Unlike the other Chinese language courses, this series of culture courses focus more on Chinese society, geography, economy, history, philosophy and literature.
 
Courseware Development:


The multimedia and web-based learning resources developed by CI-MSU are as follows:
Chinese Your Way: Developed by the China R&D Center of CI-MSU, Chinese Your Way has been put to use for online Chinese teaching. Using multimedia in large quantity, the programme has great originality and been rich in teaching content and approaches. The teaching material has been divided into 1A/1B for first grade high school students, 2A/2B for the second and 3A/3B for the third, altogether 6 levels.
Chinese International Baccalaureate Textbooks: Michigan State University developed a two years online Chinese course for International Baccalaureate. The content for both years had been approved by IBO.
 
Chinese Cultural Appreciation Materials: This series of cultural appreciation materials were developed by the China R&D Center of CI-MSU. The 45-units set is divided into two CD-ROMS. The materials are designed to be used independently for Chinese culture appreciation, or as a supplementary textbook for other courses delivered by CI-MSU.
 
Chinese Mini Stories: This textbook is developed by CI-MSU independently. Every mini Chinese story is demonstrated in Chinese characters, Pinyin, English explanation and lively pictures. The stories are featured with traditional Chinese cultural values, such as propriety, filial piety and harmony, together with Chinese language learning. Currently around 39 pieces of courseware have been developed.

Cultural Exchanges Programmes:


Chinese Cultural Roadshow in Michigan: CI-MSU facilitates Hanban to launch Chinese Culture Roadshow in 2010. The lecturers of the Cultural Roadshow visited 7 school districts in Michigan and gave presentations in 11 primary and secondary schools.


Primary and Secondary Students Summer Camps: CI-MSU has launched three-week summer camps activity in Michigan local areas for three years.
Chinese Bridge Summer Camp: CI-MSU has facilitated Hanban to host Chinese Bridge summer camp.
 
Headteachers Visiting Group: CI-MSU organizes inspectors of school districts, headteachers and others to visit universities, primary and secondary schools in China. These visiting groups discuss the topics on Sino-US education exchanges and have laid foundation of cooperation between each other.
 
Teacher Training:
 
Michigan Chinese Teacher Seminar: The CI-MSU teacher training programme aims to improve teachers' knowledge and ability in three areas: 1) Chinese language and culture; 2) Second language learning theories and pedagogies, and 3) Innovative uses of technology to support foreign language teaching, including online Chinese language teaching. 
CI-MSU Chinese Teaching Monthly: In order to help the Chinese teachers to adapt themselves to the new teaching environment and teaching philosophy, and to improve their teaching skills, CI-MSU edited and published CI-MSU Chinese Teaching Monthly.
The purpose of the establishment of CI-MSU is to promote Chinese and Chinese culture learning by drawing on advanced information technology across the world. Since its founding, it has been recognized as The Confucius Institute of the Year by Hanban (Confucius Institute Headquarters) in 2007, 2008 and 2009.

Contact Information:
Website: http://experiencechinese.com 
Address: 620 Farm Lane, Room 230, East Lansing, MI, 48824 USA
Phone: 1-517-355-3801
Fax: 1-517-432-4797
Email: This email address is being protected from spambots. You need JavaScript enabled to view it.