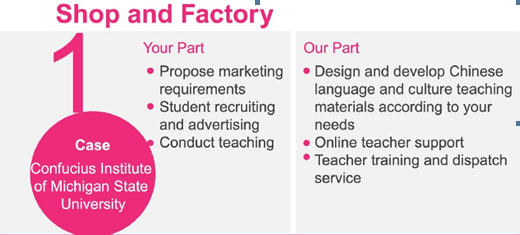 Since the Chinese Language Center at The Open University of China (hereinafter referred to as the Centre) launched its Chinese teaching services in 1996, it has maintained its heritage of open and distance education. The Center facilitates Chinese linguistic and cultural study, builds multimedia teaching resources, and provides relevant support and research.
By applying Internet-based principles to the development of Chinese teaching and working with students from all over the world, the Center has built the MyEChinese Distance Chinese Learning System and has engaged in cooperation with universities, distance education organizations, and language training schools from Europe, America and Southeast Asia.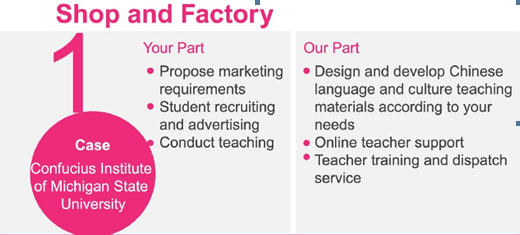 Case Study:
Establishing a Confucius Institute at Michigan State University(CI-MSU)
In 2006, the Confucius Institute at Michigan State University (CI-MSU) was co-founded by Michigan State University and the Open University of China (OUC). CI-MSU is the World's first, and at present only, online Confucius Institute offering distance Chinese teaching. It has pioneered the exploration of the "shop and factory" method of cooperation. As the "shop" Michigan State University is in charge of addressing market demand, running institute operations, and performing marketing and advertising, while the OUC, as the "factory", has specially established a China R&D Center in charge of designing and developing course materials.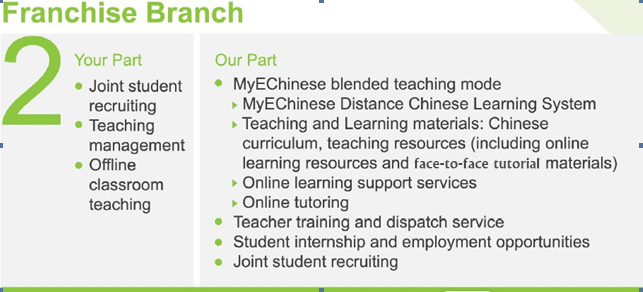 Case Study:
Centering on Yunnan Open University, establish potential teaching locations in neighboring countries in South and Southeast Asia and work together to carry out a cooperation based on a blended learning mode.

Case Study:
"3-in-1" Programme
Cooperate to launch an overseas training programme that combines improved Mandarin learning with industry-specific courses and a relevant internship or employment.
Overseas Internship Programme
This programme aims to promote China and Chinese culture overseas, enhance cultural communication and partnerships between the OUC and international education institutions, and cooperate with well-known international universities. It allows international students to visit either OUC teaching departments or a range of other businesses for short-term internships. Since 2005, the OUC has welcomed students from countries including France, Canada, Italy and Germany.

Case Study:
Teacher Training and Teacher Placement
With a view to the career development of Chinese language instructors, the Center carries out Chinese language teacher training at both a domestic and an international level and provides Chinese language instructors with a range of teaching resources and teaching management tools. Meanwhile, in order to build a bridge between international Chinese language instructors and employers, the Center provides career development training. The training takes the form of Online and Offline learning, and integrating practice with employment. At present, the Center has already sent Chinese language instructors to teaching institutions and Confucius Institutes in Indonesia and the United States, among others.
Cooperate with Victor Language Centre in Indonesia to launch distance HSK teaching and training.

Case Study:
Cooperation with the Centre National d'Enseignment à Distance (CNED), France
In cooperation with the Centre National d'Enseignment à Distance (CNED), the OUC has initiated a joint distance education programme that includes Mandarin and French instruction, shared courses and resources, and joint research and communication. Within these projects, the OUC provides a distance teaching platform and content for courses on Chinese language and culture, while the CNED carries out localization in France and other francophone regions. To promote the development of distance-based Mandarin instruction in francophone regions, the two sides have cooperated in carrying out Mandarin instruction, the joint construction of resources, teacher training, and the formation of new industry standards. Building on the OUC's success in partnering with American institutions to create the world's first online Confucius Institute, this cooperation is another creative application of distance education that promotes Chinese language instruction.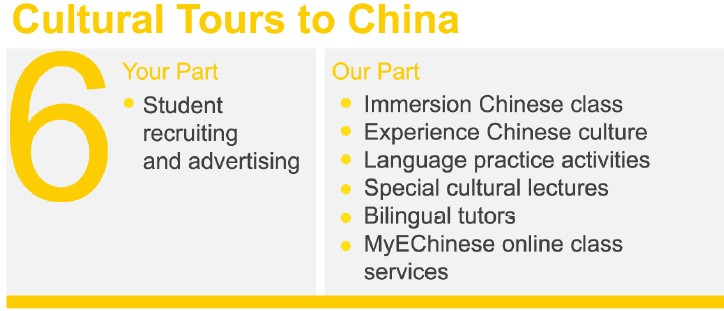 Case Study:
Immersive Chinese Summer Camps
Open to anyone in the world and characterized by a range of special courses and activities, Chinese cultural experience classes and Chinese summer camps, the programme fully immerses learners in Chinese culture and Mandarin-speaking environments, allowing them to improve their practical language abilities. In addition, the learning process is completed by distinctive cultural lectures and colorful learning activities that help learners to better understand Chinese and China. The programme has attracted learners from Europe, America and Southeast Asia, and has garnered widespread praise.
Others
Overseas Chinese Teaching TV Programmes
By cooperating with more than 10 overseas TV broadcast platforms, high-quality Chinese teaching programmes created by our university has been broadcast to eight countries and regions including America, Canada, Britain and South Africa, reaching an audience of approximately 300 million audience.

Overseas Copyright of Teaching Resources
By cooperating with overseas publishers, copyrights for Chinese language instruction products created by our Center have been transferred to Korea, France, and the United States, aiding the rapid overseas dissemination of Mandarin teaching products. At present, our Chinese linguistic and cultural teaching products have been sold to more than 100 countries and regions including the United States, France, Korea, Thailand and Japan.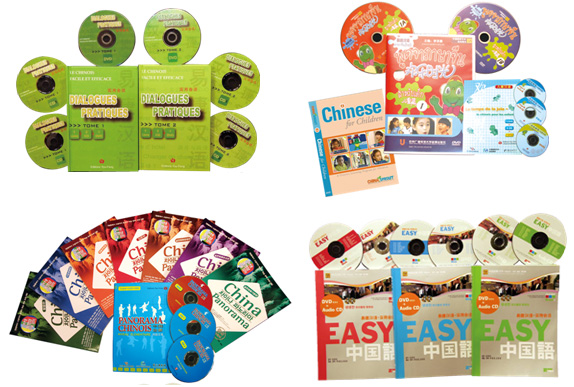 Website:www.myechinese.org
Phone:+86-10-57519206
Email: This email address is being protected from spambots. You need JavaScript enabled to view it.; This email address is being protected from spambots. You need JavaScript enabled to view it.